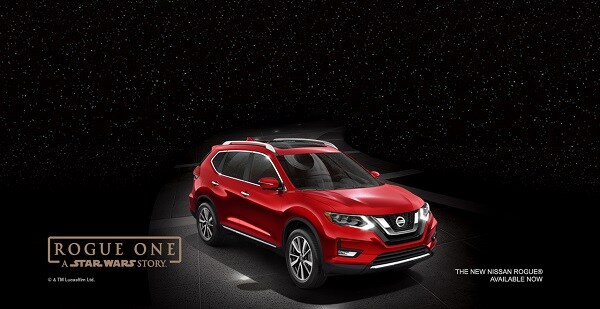 While Han Solo and Chewbacca were able to get their hands on a Corellian YT-1300 light freighter and convert that into the Millennium Falcon, earthbound Star Wars fans generally have been stuck with more mundane modes of transportation. But that was before the debut of the 2017 Nissan Rogue: Rogue One Star Wars Limited Edition. Designed to celebrate the opening of the new movie "Rogue One: A Star Wars Story," this Rogue is the very first production vehicle to wear officially approved Star Wars styling cues.
Outside, those updates will include roof-pillar decal graphics showing the "Rebel Alliance" and "Galactic Empire" logos, a clear rear bumper protector with the "Star Wars" logo and a "Rogue One" badge for the front doors. For a full-on Star Wars stormtrooper effect, the special-edition Rogue can match a Glacier White exterior finish with a black grille, black aero-style finishing elements for the front and rear, black roof rails and black door handles. Prefer the Darth Vader treatment? Opt for the only other exterior color for the Rogue One Rogue: Magnetic Black.
The cabin is done in a charcoal color theme, with interior accent lighting, and is highlighted by its own assortment of logos, for the illuminated kickplates, carpeted floor mats and cupholder inserts.
Oh, there's also one more nifty feature that comes with every one of these vehicles, and that's a full-size replica "Death Trooper" helmet that's been numbered for added collectability. That's an important aspect of the vehicle, too.
The first Stars Wars edition Rogues were introduced, appropriately enough, at the recent Los Angeles Auto Show. There, Jeremy Tucker, vice president of Marketing Communications & Media for Nissan North America, said: "For most fans, their love affair with Star Wars started in childhood, with hours spent playing with miniature replicas of the various X-wing fighters and other vehicles. Now, for a special few, they have a chance to engage with a full-scale collectible, the Nissan Rogue: Rogue One Star Wars Limited Edition. And more than just a big kid toy, the Limited Edition is every inch the real thing—a Rogue for every adventure you can imagine."
As for how special those "special few" are, a mere 5,000 special editions will be sold in the United States. (Four hundred also are being reserved for Canadian customers.)
But even if you do miss out on a Star Wars version, you can still enjoy a 2017 Nissan Rogue with all the same equipment as the limited edition, just without the design enhancements—or the helmet.
What you do get are a wide range of other upgrades for the 2017 model year, since the entire Rogue roster has been significantly refreshed. Up front, for instance, the Rogue has been restyled with a bolder, "V-Motion" grille and signature LED daytime running lights and taillights. There's also more technology available for the 2017 Rogue, such as a hands-free power-opening liftgate, adaptive cruise control and a forward emergency-braking system with pedestrian-detection capability. The specific model used for the limited-edition Rogue—the Rogue SV with Sun and Sound Touring Package—then bundles premium content like a panoramic moonroof, leather-wrapped steering wheel, blind-spot warning, and Bose audio system.
Note: To attempt to meet demand for the Rogue: Rogue One, the automaker has set up an online signup program, and Route 33 Nissan will notify any local customers as soon as these special models arrive.