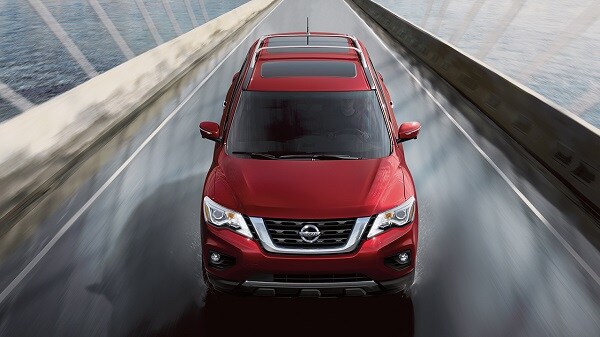 Take Your Kids to Work Day is April 27, and there's no better vehicle to transport them from home to the office than the 2017 Nissan Pathfinder. Set the example for your sons and daughters by showing them what hard work looks like – and how it can result in benefits like owning and operating a versatile, family-sized SUV.
Nissan's 2017 line of SUVs are positively exciting, and the 2017 Nissan Pathfinder is no exemption. It offers a bit more than other models in its class and can comfortably accommodate up to seven. These are among the reasons that make the Pathfinder the perfect model for playing chauffeur.
Noteworthy technology is a certain sign of a quality family SUV, and the Pathfinder shines in that category. By turning the available All-Mode 4x4 i-dial (located right behind the gear shift), your Pathfinder will be locked into 4WD for all of those rugged terrains you trek and fluctuating weather you might have to power through.
Additionally, the intuitive Auto Mode can sense slippery roads and coarse landscapes and will automatically regulate power to each wheel when the conditions call for it. Once the situation smooths itself out, it reverts back to 2WD.
Backseat passengers have been known to cause a commotion, and drivers will be thankful for all of the assistance offered by the Pathfinder when lugging the little ones along for the morning commute.
2017 Nissan Pathfinder Wants to Offer Parents Tips for Taking Their Kids to Work
The 2017 Nissan Pathfinder is the ideal model for an occasion like Take Your Kids to Work Day, and the standard and available safety and technology features make it so. While getting your sons and daughters to the office is one thing, what to do with them once there is a whole other ballgame. You're halfway there when you learn more about the Pathfinder, courtesy of Kelley Blue Book, though. Find out why it's one of the best family SUVs on the market right now.
The Pathfinder's brilliant mishmash of practical comfort, accommodation and capability are all key factors ensuring it retained a spot on KBB's list of best family vehicles.
Route 33 Nissan is proud to make Take Your Kids to Work Day a bit easier for you this year by providing the ideal vehicle for your commute. You'll be able to make sure the day gets off to a great start for both you and your children by preparing balanced breakfasts, and warming up your new Pathfinder after a trip to Route 33 Nissan. If you're looking to check things out before you stop in, take a look at https://www.route33nissan.com/ or call to schedule a test drive.
Be sure to use the #COUNTONME hashtag in your Twitter and Instagram posts supporting Take Our Daughters and Sons to Work Day 2017!