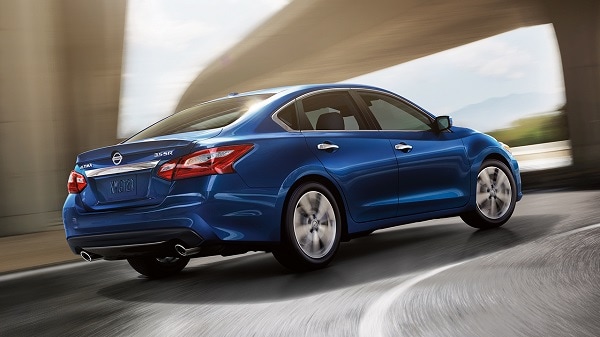 When browsing for anything, outward appearance is always high on the list of desirable traits. There's never been a doubt that Nissan has set their standards high enough to deliver the exterior design that drivers seek when car shopping, regardless of whether you're seeking a highly-acclaimed sedan, SUV, crossover, or truck.
Whether you're chauffeuring your kids to little league practice or getting ready to escort your significant other for a night on the town, this 2017 Nissan Altima is ready to turn the heads of bystanders as you pass.
The Altima delivers in every category, from the most important, like safety enhancements, to the most aesthetically-pleasing, like dynamically-styled outer features.
The upscale exterior design of the Altima is a contemporary image, created specially to garner attention for its craftsmanship. Its aerodynamic outer parts are enhanced further by the Active Grille Shutters available on 4-cylinder trims that close automatically at highway speeds, both boosting efficiency and decreasing wind resistance.
The beauty of the Altima continues once you open the driver's side door, as the beautifully crafted, available soft-leather-appointed seats make for a cozy salutation. For things to warm up even more, the available dual zone climate control are sure to keep both driver and front passenger comfortable – it gives you the control to heat or cool each side of the cabin at will.
Standard Features In The Altima Ensure Safety To Accompany Style
When shopping for a car that has the best interest of both driver and passenger in mind, there's no better place to start than the 2017 Nissan Altima. The new sedan is an IIHS Top Safety Pick Plus and filled to the brim with safety features that are perfect for families, both big and small.
It's got a Bluetooth system that comes standard on all models, and you'll never even have to consider removing your hands from the steering wheel. Add in a rearview mirror that does just a bit more than drivers are used to - it features a built-in monitor to help give an enhanced view of what's directly behind you – and you'll be thankful to keep track of what's on the road and in your backseat.
Route 33 Nissan has a variety of new cars, each of which boasts the technology and safety features that Nissan enthusiasts have grown to love. Be sure to visit today to take a test drive! If you're looking to check things out before you stop in, take a look at https://www.route33nissan.com/ or call to schedule a test drive.